Workplace Flu Vaccinations
At Onsite Medical Hub we provide workplace flu vaccinations across Australia and are the experts at providing onsite flu vaccinations and other employee medical services. Our dedicated clinical team has provided workplace flu vaccinations for thousands of employee's and we also tailor-make health programs designed to meet the specific needs of each workplace or organisation when administering the flu vaccine.
Workplace flu shots can be provided to your staff, and organisation at your site making the service convenient, efficient and cost-effective. This approach supports a healthy workforce by increasing productivity and reducing absenteeism from illness.
Our experienced medical and nursing team will attend your workplace and administer vaccinations with minimal disruption to workflow and productivity. Flu Vaccination programs can be delivered to your industry specific needs, whilst catering to your organisation's unique preferences and systems.
Based and founded in Melbourne, the team at Onsite Medical Hub are active supporters of Victorian businesses during COVID-19 and beyond. Onsite Medical Hub is at the forefront of innovative thinking and healthcare and is fast building a reputation as a marker of good health.
Why partner with Onsite Medical Hub?
Onsite Medical Hub is recognised for its:
Expertise: our accredited nurse immunisers and administrators work closely to deliver organised and efficient health programs;
Assurance: we offer your people and business the knowledge of a marker of good health;
Care: we take a proactive and individualistic approach to client care;
Efficiency: our responsive onsite medical service minimises interruption to business operations; and
Convenience: whether it's 5000 flu shots or ten employee health checks, we customise medical services onsite for individual workplaces.
Increased community engagement by providing a streamlined process for families that is more economical than multiple GP visits and supports a positive health message from the school.
Alleviate the intensity of flu season within the community, reducing absenteeism and disruptions to learning – especially in a COVIDSafe era.
A centralised location is convenient for busy families, students and staff who can secure their allocated timeslot with an easy booking system. Our unique online booking system can be navigated with ease, making scheduling, registering and payment accessible to all ages.
An Onsite Medical Hub nurse administers the flu shot, while our doctors oversee the program. This means the added expense of a doctors' consultation for each member of the family is eliminated.
How to set up an Employee Flu Shot program with Onsite Medical Hub
Simply book an employee flu shot program day or series of dates with Onsite Medical Hub within the flu season window;
A dedicated online booking site is created for you with your logo and requested times;
You send an email invitation for flu shots to your community – e.g. schoolwide community, staff, building tenants, etc;
Each recipient can then book themselves and/ or their family or friends through the portal and e-sign a consent form;
Options include payment gateway or a booking engine if the vaccine is funded by an organisation;
Each customer will receive a confirmation email and confirmed booking times;
We administer the flu vaccines onsite at your organisation; and
You will receive a record of attendees.
1. Online or phone enquiry
2. Onsite Medical Hub coordinator provides a quote
3. Accept quote / Pay deposit
5. Online booking portal issued
8. Reminders: Day before & 1 hour before
9. Attend for vaccination
10. Certificate emailed to staff
11. Invoice generated (balance)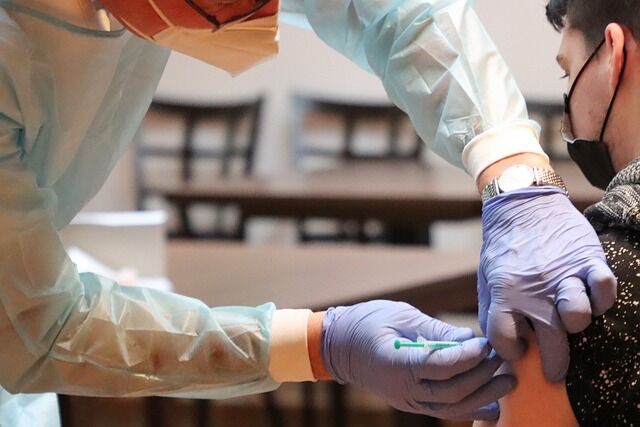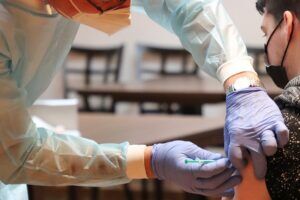 Flu Vaccinations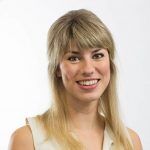 Getting vaccinated against the flu will not only protect you but also the health of people around you, just like how wearing a mask protects everyone. Just as wearing a mask comes as a cheap and effective tool to combat transmission of COVID-19, getting vaccinated against the flu can dramatically reduce person-to-person transmission of influenza.
Read More »